~~~~~~~~~~~~~~~
Basic Information
~~~~~~~~~~~~~~~
Name:
Kenjiro Nakamura
Alias (optional):
Ken [i would guess lol]
Gender:
Male
Age:
17
Bending Power:
Fire
Allegiances:
None
Family Members(Optional):Birth Date(Optional):Extra Information:
~~~~~~~~~~~~~~~
Appearance
~~~~~~~~~~~~~~~
Appearance: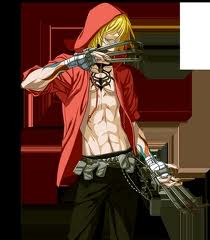 Height:
5' 7
Weight:
200 lbs
Body Type:
trained but not over muscled
Extra Feature:
Tribal type tatto on his chest.
Voice:
A calm mid deep voice.
Extra Clothing/Gear:
I think I should put the claws here yes?
~~~~~~~~~~~~~~~
Persona
~~~~~~~~~~~~~~~
Personality:
Kenjiro is an extreamly kind young man despite how he was raised. Willing to give you the shirt off his back if you were freezing. Though protective of his friends he is the kind of person who would willingly stand up to the leaders of all four nations to defend that person's honor.
Likes:
Friends,
Dislikes:
Fire nation
Goals:
See the world out side of the fire nation
Fears:
The avatar failing again.
Strength:
Speed, the use of claws and strength.
Weakness:
Slow to react.
Extra Information:
~~~~~~~~~~~~~~~
History
~~~~~~~~~~~~~~~
History:
(at least 2-3 paragraphs)