~~~~~~~~~~~~~~~
Basic
Information
~~~~~~~~~~~~~~~
Name:
Dawn Aurora
Alias (optional):
Princess Dawn (if I can rule the Tribes), Miss. Dawn (by servants)
Gender:
Female
Age:
18
Bending Power:
Water
Allegiances:
Water Tribes
Family Members(Optional):
No not really any.
Birth Date(Optional): [b]DecemberExtra Information:
~~~~~~~~~~~~~~~
Appearance
~~~~~~~~~~~~~~~
Appearance:
Dawn has brown hair that goes down to mid back about, and she has some bangs in her face. Her eyes are light blue, almost gray. She wears a dark blue camisole with white ruffles in the middle, under her tribe coat (even though in the picture it is dark red just image it dark blue.) the camisole is tied at Dawn's neck, she also wears a dark blue skirt.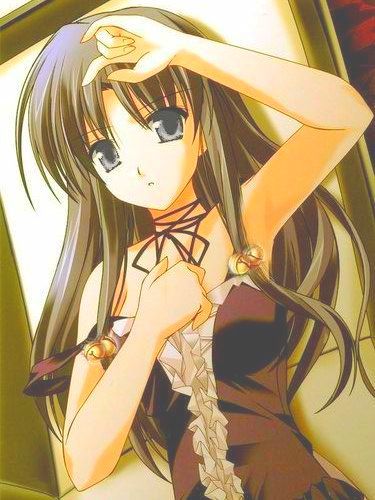 Height:
5'5"
Weight:
119 pounds
Body Type:
Skinny, sorta. Tall. Caucasian
Extra Feature:Voice:
Sweet, kind, caring.
Extra Clothing/Gear:
Water Tribe coat
~~~~~~~~~~~~~~~
Personality
~~~~~~~~~~~~~~~
Personality:
Nice, caring, sweet, quiet, shy. Dawn doesn't like to be mean but she can be, she can be harsh too.
Likes:The Tribes, her family, waterbending.Dislikes:
The Fire Nation, no family, firebending.Goals:
To be the Water Nation's leader for a long time.
Fears:
Burns, Water Tribes getting defeated
Strength:
Waterbending, The Tribes people
Weakness:
Firebending, Fire Nation people
Extra Information:
~~~~~~~~~~~~~~~
History
~~~~~~~~~~~~~~~
History:
Dawn was born to the Aurora's, John (dad) and Janice (mom). They were trying for a kid, but the doctor said Janice was infertile. The parents kept trying even though most times proved worthless, and eventually they got what the wanted - a child.
They pampered Dawn, because they felt like she was a treat and deserved to be pampered. Just like a Princess. At the age of 10, Dawn started learning the art or waterbending.
One day when Dawn was coming home from her lessons on waterbending, she found her parents being killed. She immediately went up to the person and started beating the person up, to only find it was a firebender. The firebender didn't burn Dawn, but tried to. Dawn defeated the person.
At the age of 15, Dawn mastered the art of waterbending. She still practices everyday.
On the day of her 18th birthday, Dawn saw that they were having election for the next ruler of the Tribes. She won the election part, but there was another part. She had to fight the current princess before she would be put in office.
It was a long battle, but Dawn won..